PEACE OF MIND FOR THE ROAD AHEAD.
BMW MAINTENANCE PLANS.
COMPREHENSIVE MAINTENANCE FOR THE LIFE OF YOUR BMW.
The unparalleled enjoyment you feel from your BMW should last as long as you drive it. That's why, no matter where you are in your lease or ownership journey, we have a service program option to keep your experience at its very best. Every BMW starts with BMW Ultimate Care, which you have the option to extend and enhance with the BMW Ultimate Care Scheduled, Ultimate Care+, Ultimate Care Oil Services, and Value Service programs - only at BMW of Westlake.
EXPERT CARE IS ASSURED.
All BMW Ultimate Care and Value Service work is performed at BMW of Westlake, by BMW Trained Technicians, using only Original BMW Parts - ensuring your BMW remains The Ultimate Driving Machine®. When you extend scheduled maintenance or upgrade to Ultimate Care+ 1, 2, 3 or 4, you'll save up to 30% on included maintenance by paying in advance. Choosing BMW Ultimate Care Oil Services means getting 3 years of unlimited, prepaid oil service for a single payment of $199.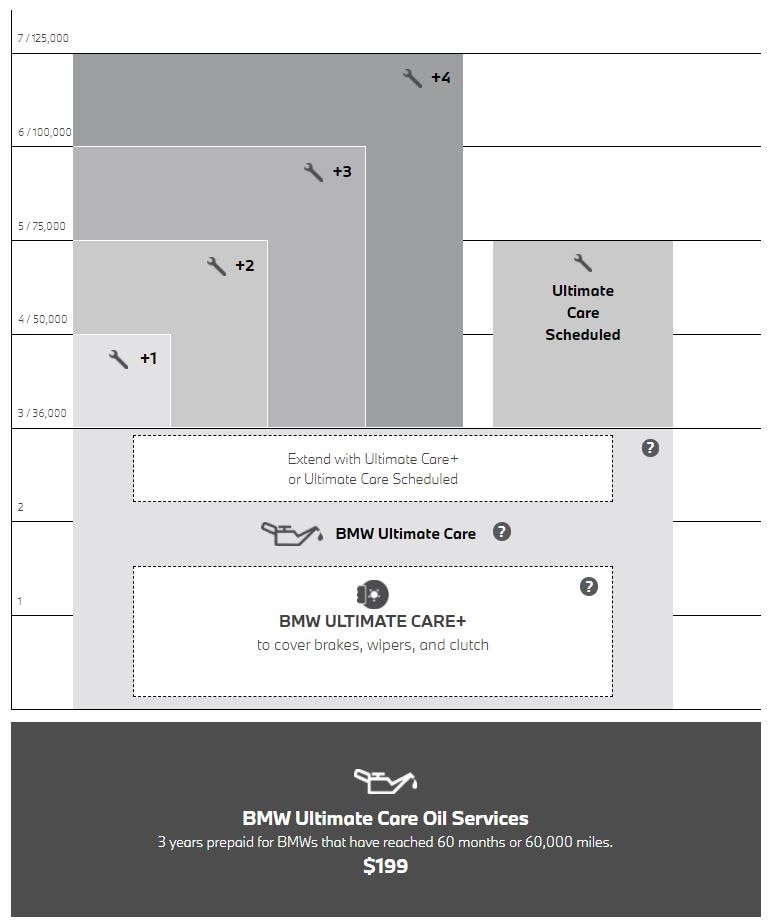 Purchase BMW Ultimate Care+ to add:
- Replacement of specific wear-and-tear items such as brake pads, wiper blades and manual transmission clutch (for model year 2017 vehicles and newer).
- Ultimate Care+ is transferable to a subsequent owner, should you sell your vehicle.
Extend full maintenance:
- Extend BMW Ultimate Care+ 1, 2, 3, or 4 additional years or 89,000 miles for a total of up to 7 years or 125,000 miles. As an owner or lessee of a new BMW, you can decide to add this coverage at any point before your Ultimate Care coverage expires.
Model years 2017 and forward BMW Ultimate Care includes:
- BMW Scheduled Maintenance, including oil and filter changes and more for 3 years or 36,000 miles.
- Roadside Assistance 24 hours a day, 365 days a year, for 4 years / unlimited miles.
- BMW TeleService: Lets your vehicle report to BMW when it needs service (available on all new BMWs).
Extend scheduled coverage:
 - Extend scheduled maintenance coverage beyond 3 years or 36,000 miles with Ultimate Care Scheduled which covers an additional 2 years or 39,000 miles for a total of up to 5 years or 75,000 miles.
Contact the BMW of Westlake Business Manager to discuss your options.



* For model year 2015 or newer vehicles sold or leased by an authorized BMW Center on or after July 1, 2014, BMW Ultimate Care coverage is not transferable to subsequent purchasers, owners, or lessees. Please see https://www.bmwusa.com/explore/bmw-value/bmw-maintenance/ultimate-service.html or ask your authorized BMW Center for details. The BMW Ultimate Care Program covers all factory-recommended scheduled maintenance services as determined by the Service Interval Indicator for all new eligible model year 2017 and later BMW vehicles. Specific additional items that need replacement due to normal wear and tear are not covered. The maintenance coverage period is for the first 3 years or 36,000 miles, whichever comes first. Exclusions from coverage: gasoline, gasoline additives, windshield washer fluid, fluid top-offs, battery, tires, wheels and wheel alignment, and wear-and-tear items such as brake pads, brake rotors, wiper blades, clutches and tire balancing. BMW vehicles equipped with Carbon Ceramic brakes are not eligible for BMW Ultimate Care+ upgrades or extensions. All work must be performed by an authorized BMW Center. See the Service and Warranty Information booklet for specific terms, conditions and limitations. BMW Ultimate Care+ availability varies by model. Further information can also be obtained from your authorized BMW Center. Savings up to 30% are estimated based on MSRP compared to paying for each maintenance visit individually. Your actual savings may vary. Available for vehicles under 60 months / 60,000 miles unless currently covered by an Ultimate Care+ contract. MSRP may be higher if existing coverage has lapsed. Program and pricing subject to change.
The BMW Ultimate Care Oil Services plan includes unlimited oil and oil filter changes for three years for $199.00 plus taxes and disposal fees where applicable. Unlimited oil services included are based upon the associated BMW vehicle Condition Based Service (CBS) system. Available for all BMW vehicles that have reached 60 months or 60,000 miles and have no current Ultimate Care+ coverage. Plan is available for purchase once BMW vehicle has reached 54 months and has current BMW Ultimate Care Scheduled or BMW Ultimate Care+2 coverage. All work is carried out by BMW Trained Technicians using Original BMW Parts, which come with a two-year unlimited mileage limited warranty. Warranty repairs do not constitute an extension of the original limited warranty period for the vehicle or a part thereof.