Buy or Lease a New BMW XM In Westlake, Ohio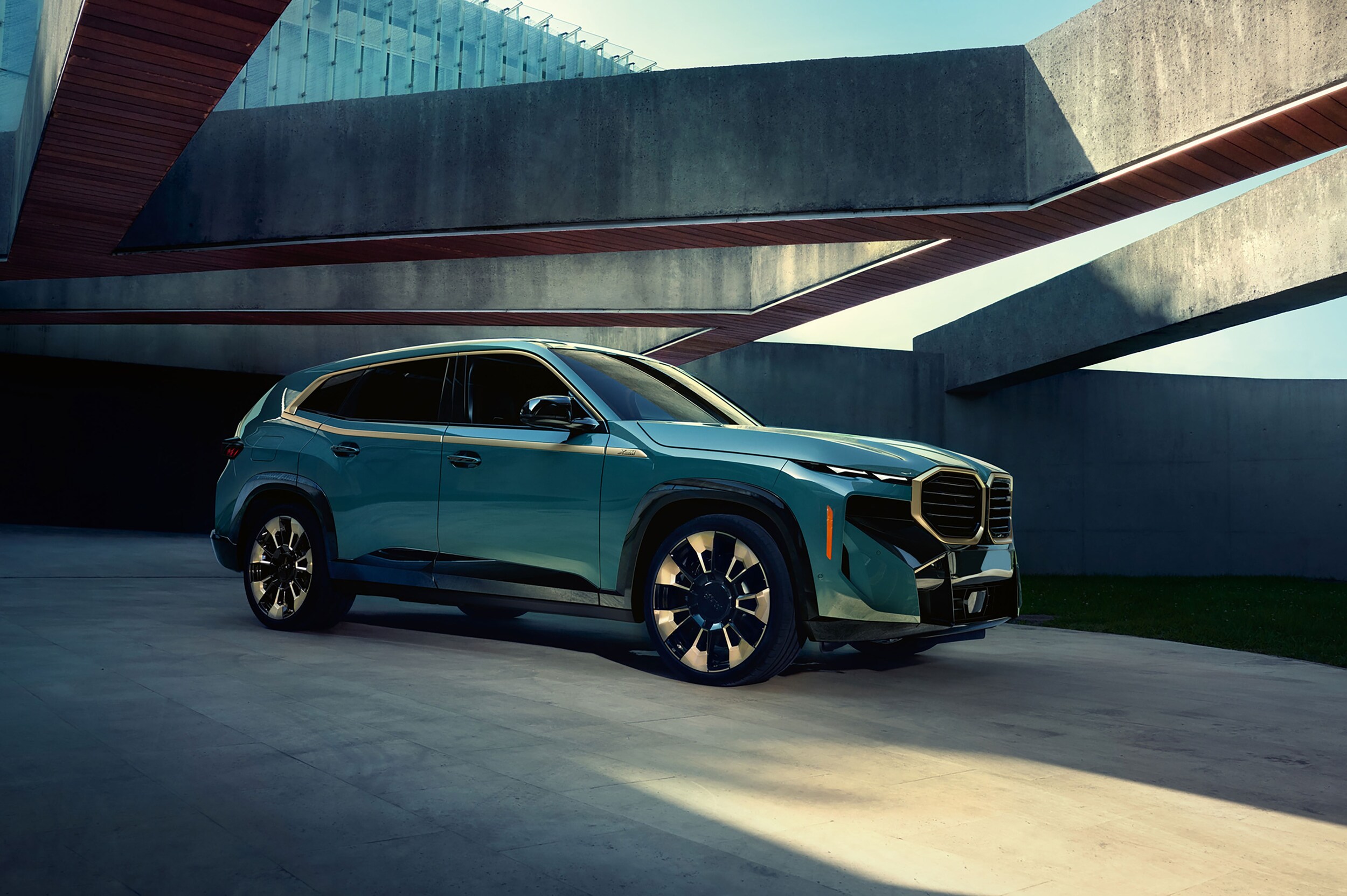 New BMW XM For Sale 
Near Cleveland, OH
Unveiling the New BMW XM at BMW of Westlake in Westlake
The 2023 BMW XM at BMW of Westlake is a midsize luxury SUV with superior comfort and impressive performance. The BMW XM features 23-inch alloy wheels that combine lightweight design with superior craftsmanship. The five double-spoke rims in Orbit Grey and high gloss finish offers superior performance when it comes to steering, cornering, and braking as you drive in Westlake.
The BMW XM comes with a fully illuminated grille surround for those who want to stand out even in the dark. The Iconic Glow technology projects light from the center of the grille, creating an eye-catching look.
The rear aerodynamic diffuser reduces lift forces and helps optimize the 2023 BMW XM's fuel efficiency while still allowing it to maintain its impressive top speed. The diffuser also serves as a stylish accent piece that helps enhance the look of the SUV.
Performance
Underneath the hood, the new BMW XM packs a powerful turbocharged 4.4-liter twin-turbocharged V8 engine coupled with an electric motor. The plug-in hybrid powertrain produces 644 horsepower and 590 pound-feet of torque. If you need top-notch performance, you can opt for the Label Red trim, which gets 735 horsepower.
All four wheels are driven by an adaptive all-wheel drive system, allowing optimal handling even in the most challenging conditions in Strongsville and Lakewood. The BMW XM also features a Dynamic Stability Control system that helps maintain stability on uneven surfaces.
The new BMW XM features 48-volt active anti-roll bars, which maintain body roll under cornering forces by actively engaging the bars. This helps increase handling performance and stability as you cruise around North Olmsted.
The new XM features electronically controlled damping, which helps drivers around North Ridgeville to adjust the ride height. The system adjusts automatically to changes in terrain or when driving at high speeds, allowing for an optimal ride experience.
The BMW XM also features a five-link rear suspension with an adaptive M Suspension. This system is designed to provide the perfect balance of comfort and sportiness, allowing for a comfortable ride even when tackling corners at high speeds.
The BMW XM comes with a range of off-roading features, including the xDrive All Terrain package. This package includes Hill Descent Control and an Off-Road Mode that helps optimize traction in low-grip conditions.
Interior
The new BMW SUV comes with the latest version of iDrive 8, an intuitive operating system that allows you access to various features, including navigation, music streaming services, and more. The system also features augmented reality capabilities, enhancing visuals in supported applications.
The BMW XM comes with multi-function seats that can be adjusted to suit your needs. The seats are designed for comfort and convenience, featuring heating, cooling, and massage functions.
The BMW XM also comes with the Bowers & Wilkins Surround Sound System, designed to deliver a premium audio experience. The system includes 20 speakers and a 1,500-watt amplifier to create an immersive soundstage.
Safety
The driver alertness assistant will detect any signs of fatigue or drowsiness in the driver. If it detects that the driver is distracted, it will issue a warning and recommend taking a break.
The BMW XM also has automatic emergency braking and a lane-keeping assist to help prevent collisions. Its blind spot monitoring system will detect any objects in the blind spot and alert you with visual and audible warnings.
BMW's Evasion Assistant system helps evade potential collisions by automatically detecting obstacles on roads from Cleveland to Lorain and actively steering the vehicle out of harm's way.
The lane return and steering assist will help you stay within your lane by detecting the lane markings and softly guiding the car back into its intended path. The speed limit monitoring system alerts the driver if they exceed the speed limit and provides recommendations on navigating around curves safely.
Visit BMW of Westlake Today!
Visit BMW of Westlake in Westlake and experience a whole new level of driving performance, comfort, and safety in the 2023 BMW XM. Be sure to check out our new inventory and get pre-approved.
Schedule A Test Drive
* Indicates a required field