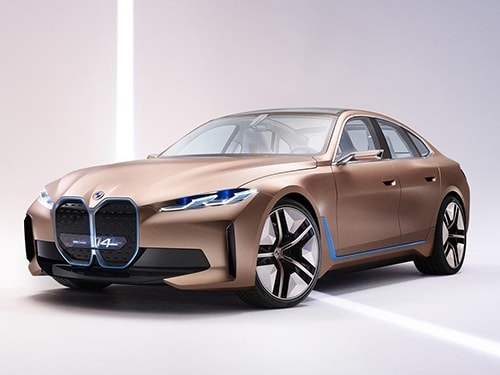 Overview
BMW has electric vehicles currently in its line up and they are one of kind cars that sure do know how to make a statement. The BMW i3 with its recyclable and completely environmentally friendly materials has been a part of the brand since 2016. The BMW i8 supercar design which made its debut in 2014 is another car that brings an intense wow factor to the electric vehicle (EV) line up. What has caught many people's attention recently is the newest addition to BMWs EV portfolio. The up-and-coming BMW i4. The i4 design is based on BMW 3 series and will be a four door sedan. BMW claims the i4 will have a driving range of 372 miles as well as a fully equipped interior with the latest software and technology. It's set to go on sale at BMW of Westlake sometime in 2021.
Pricing
The BMW i4 isn't expected to start production until sometime in 2021, and go on sale later that year. While BMW hasn't announced official pricing, we expect it to start somewhere near $50,000.
Performance
The BMW i4 is rumored to have a 530 hp electric motor and an 80.0-kWh battery pack. BMW says the all-electric four-door will accelerate from zero to 62 mph in four seconds. The Tesla Model 3 accelerated to 60 mph in 3.5 seconds despite having almost 80hp less than the i4. The BMW i4 also is set to offer both rear- and all-wheel drive, which will ultimately produce different zero-to-60-mph times.
Interior and Cargo
The i4 Concept's interior cabin is extremely elegant and minimalist. It features rose gold trim, white leather upholstery, and light wood trim. The car will share more interior traits with the company's 3-series sedan, so the interior will likely be equally as spacious. The i4's roofline is more dramatic than the 3 and offers a four-door-coupe body style. The car is also rumored to have what appears to be a large rear lift gate that opens to reveal a large cargo area like that of BMW 4-series Gran Coupe.
Conclusion
It is no debate that this vehicle is going to be a force to be reckoned with in BMWs EV line up. Many people are jumping on the trend with electric vehicles and are electrified about this show stopping release. All of us at BMW of Westlake are super pumped for this car to make an appearance on our showroom and our inventory. Hopefully we will see our dreams come to fruition within the next 1 to 2 years at BMW of Westlake and Northeast Ohio.