A New Take On An Old Idea
It's back!
The nameplate BMW made famous in the 90s is making its return in a big way. The newly redesigned 8 Series is here initially only as an M850i coupe and convertible, however we may see a gran coupe and/or an M8 coming down the road as well. The all new 8 Series is featured here and in all the release photos in the new Barcelona Blue paint color (one of the 8 available paint colors along with 2 convertible top color options). The convertible is a soft top version that maintains the same aggressive styling and character of the coupe.
The 2019 BMW 8 Series Coupe accented by the active kidney grille.
The sporty look doesn't stop at the new active kidney grille located at the front of the car. Continuing down the side of the car you can see there are more swooping and angular shapes leading toward the rear. Circling around back, you can see the wide wheel arches and slim signature "L" shaped taillights. The trapezoidal tailpipes hint at a beast within, and what a beast it is. The new 4.4L V8 is civilized at lower rpms, but if you put your foot into it, it transforms into a bare knuckle brawler.
The new V8 is pumping out a whopping 523 hp and 553 lb-ft of torque. 0-60 is accomplished in an astonishingly quick 3.6 seconds. A carbon fiber roof and laser headlights are available as options to set yours apart. Merino leather is equipped as standard as well as BMW's iDrive 7.0 system that stores personal preferences in the cloud, has the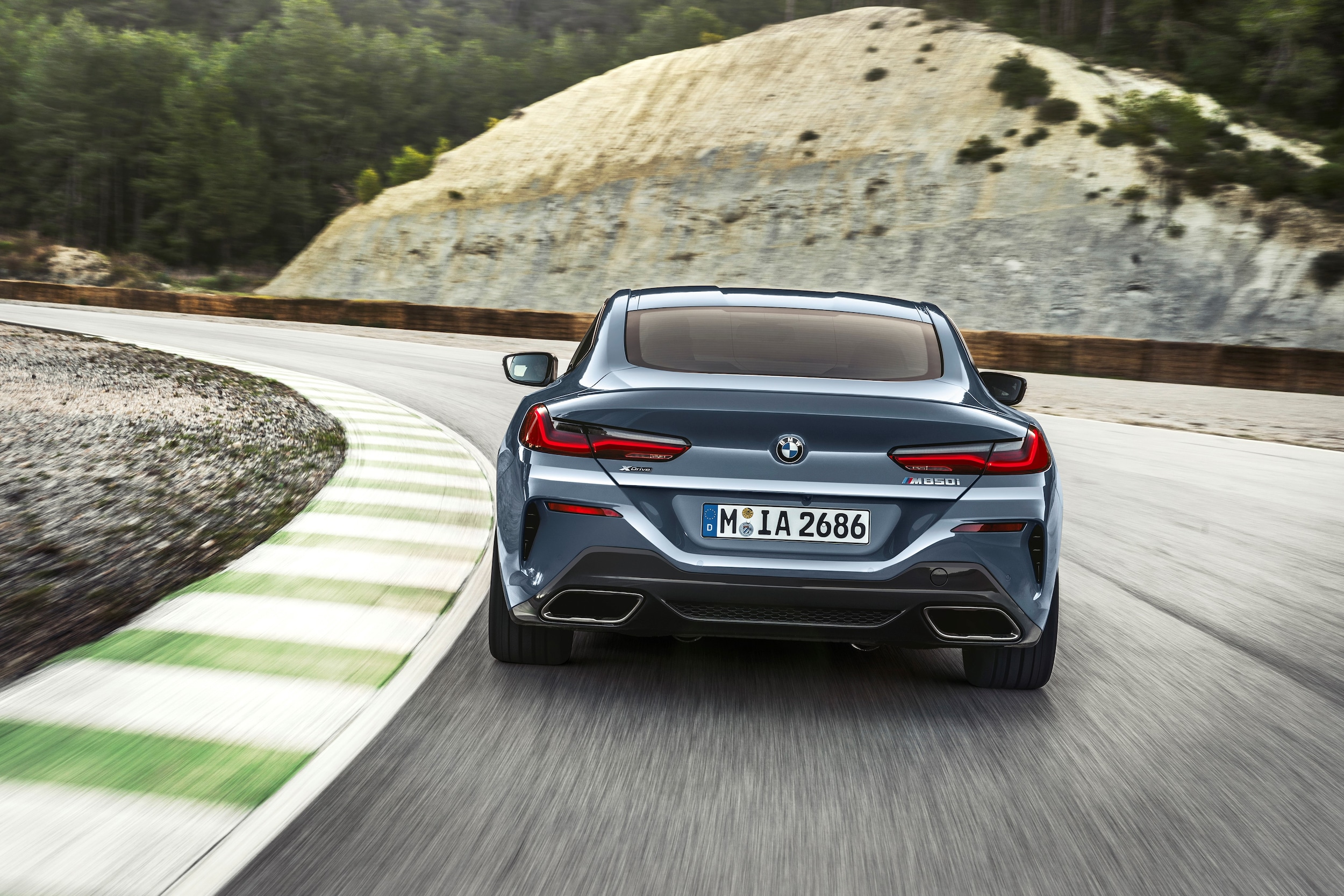 BMW Personal Co-Pilot (your own personal assistant built in), multiple configurable pages with full touch control, and all of BMW's latest advanced safety features available.
The rear of the new 8 is aggressive, yet elegant.
BMW nailed it with the previous 8 series of yore, but it's time to pave way for a new king of the road. Bathed in all new technology to push BMW even further forward along with BMW's signature driving characteristics and alarmingly quick acceleration make this future classic easily recommendable. With presence and style as uniquely recognizable as this, it's not difficult to see why people are clamoring over this new model. The M8 will undoubtedly shake up the industry even more when that arrives, but for now we have a beast in the showroom that wants to be out on the road. This grand tourer is available to be ordered now. Stop by BMW of Westlake to learn more.